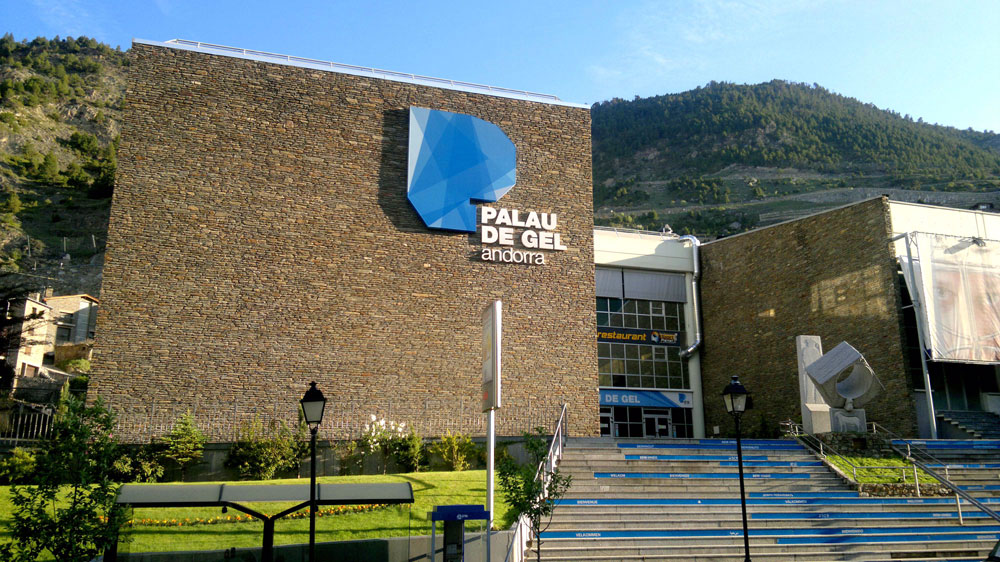 15 Apr

Palau de Gel Andorra
PALAU DE GEL ANDORRA
INSTALLATION DETAILS
Location
Ctra. general nº1 s/n, Canillo, Andorra.
Description
Refrigeration installation for cooling of ice rink for different sports activities. Initial power of 600 kWF, for a volume of 6,600 kg of refrigerant R-134a, on a surface of 981 m2.
Retrofit of a refrigerant installation from R-22 to R-134a for cooling the ice rink. Cooling capacity of 548kW, with a volume of 6,600 kg of refrigerant R-134a, on an ice rink surface of about 1,800m2.
Scope of works
Semi-hermetic screw type compressors, 548 kWF -16 / + 35ºC, with soft starter and PLC control.
Installation of compressor oil cooling system with heat utilization for preheating pool air.
Adaptation of the Particle Separator set of 5,700 liters and diameter of 1.2 x 5 meters, horizontal type, 2 pumping outlets and Automatic oil recovery system. Energy improvement in the management and control of the refrigerant pumping system to the runway.
Installation of an intelligent monitoring system for the prediction of refrigerant gas losses (leakage control).
Supervision of leaks in ice rink.
Installation Overview of power and control, power lines to all points of consumption and signal. Control system through Industrial PLC and Management through Scada System.
Installation of inverters for the optimal regulation of refrigerant pumping systems in the ice rink.
Repair of different heat recovery heat exchangers for auxiliary services.
Network of steel pipes for heat recovery to heat the pool water of the complex and improvement of the refrigeration installation.
Client
Comú de Canillo (Palau de Gel d'Andorra)