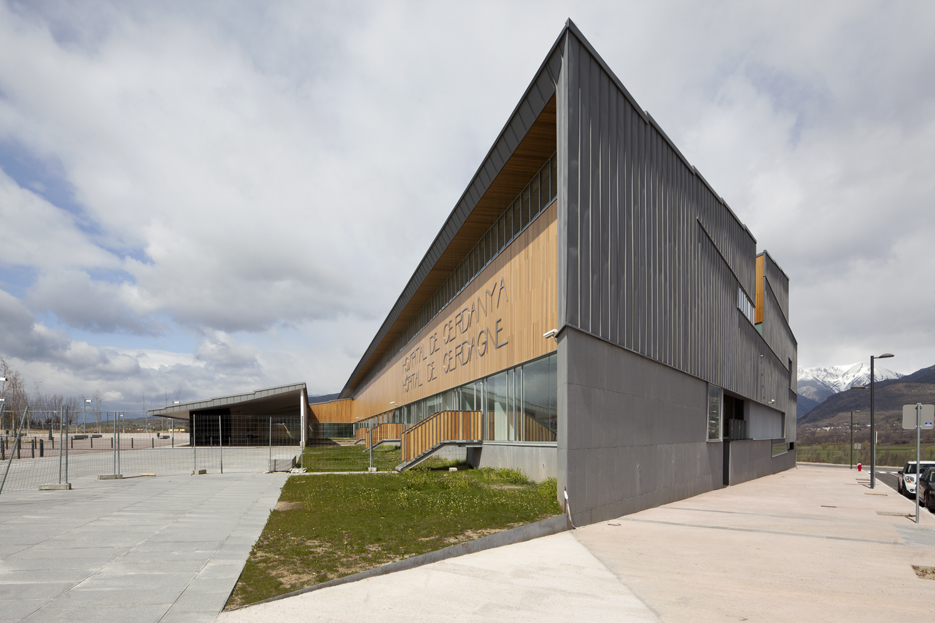 01 Nov

Hospital of Cerdanya
HOSPITAL OF CERDANYA
INSTALLATION DETAILS
Location
Description
Hospital of new construction located at 1,200 m altitude to serve the border population of Spain and France in the mountainous area of ​​the Pyrenees.
It has a constructed area of ​​21,000 m2 plus 9,000 m2 of urbanization and a total of 64 hospital beds.
As significant areas have been built:
Surgical Block equipped with 6 High Technology Operating Rooms.
Intensive Care Unit (U.C.I.).
Post-Operative Resuscitation Unit
Diagnostic Service for the Image.
Hemodialysis.
Morgue.
Helicopter for emergency landing of mountain Helicopters.
Underground parking.
Urbanization of the environment.
Scope of works
Civil Works, Structure and Finishes.
Elevators
Interior Equipment and Furniture.
Cold and hot water production plant.
Air conditioning.
Medium Voltage and Low Voltage Electricity.
Distribution networks of energetic fluids.
Plumbing and systems for water treatment.
Thermal solar energy.
IT systems of telecommunications, voice and data.
Specialized equipment for waste treatment.
Against fires: detection and extinction.
CCTV video surveillance systems and access control.
BMS systems (Building Management System), programming of industrial PLCs and SCADA integration systems.
Special facilities of White Rooms and Operating Rooms.
Pneumatic Transport Network.
Special facilities for Heliport.
Client
AGRUPACIÓ EUROPEA DE COOPERACIÓ TERRITORIAL – HOSPITAL DE CERDANYA.