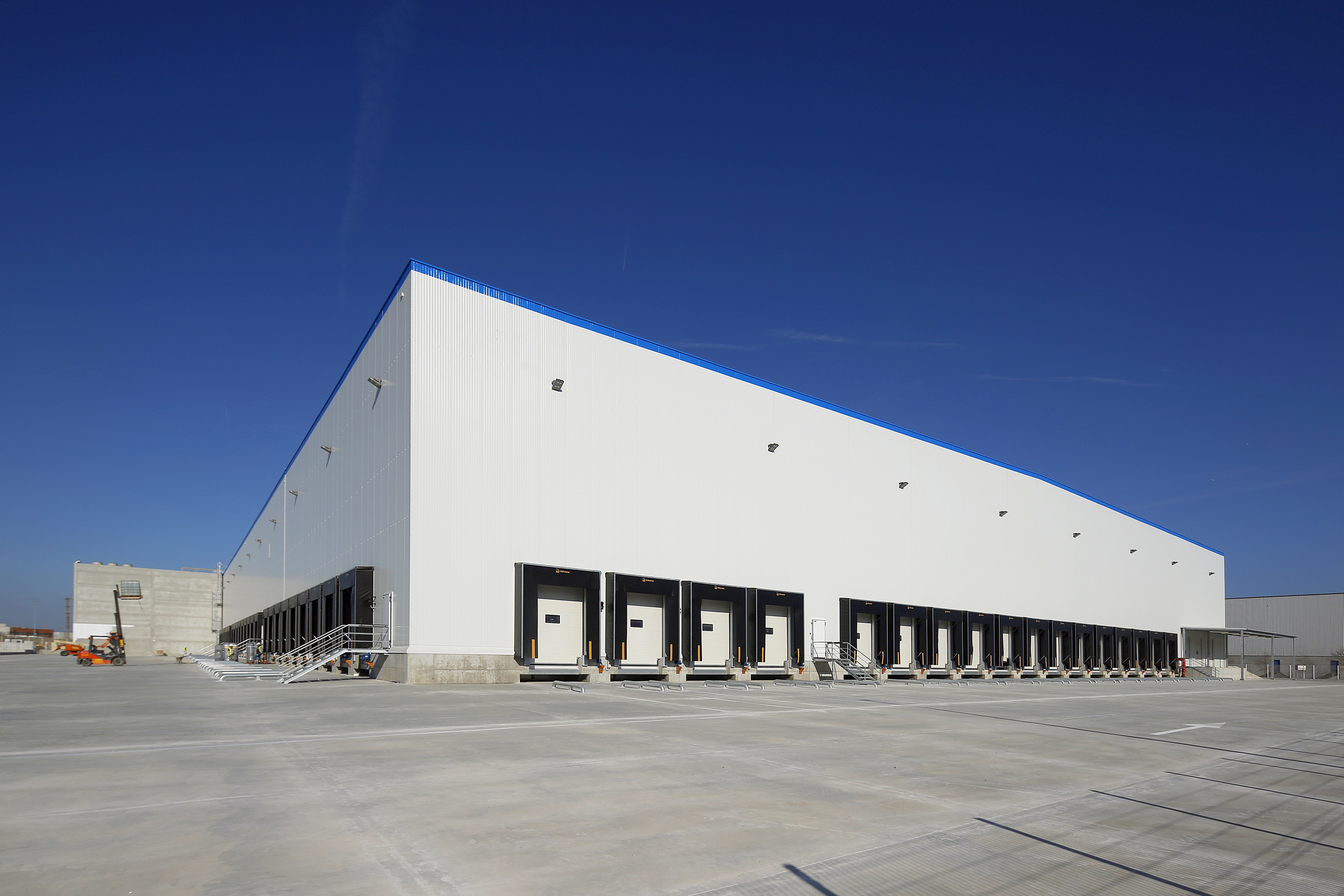 13 Apr

CILSA COLD STORE WAREHOUSE – Port of Barcelona
CILSA COLD STORE WAREHOUSE – Port of Barcelona
INSTALLATION DETAILS
Location
Avinguda de l'Estany de la Messeguera 24, ZAL, el Prat de Llobregat, Barcelona, Spain
Description
Design, execution and commissioning of all the facilities of the logistics building with a constructed area of 18,500 m². The ship is divided into 5 large blocks: the chamber of fruits and vegetables, refrigerated, fish, frozen chamber (-25ºC) and technical block and offices.
Scope of works
The works cover all the facilities of the new refrigerated logistics center:
Industrial Cold: with a cold production of more than 3 MW of refrigeration capacity, made with Ammonia (NH3) and with a distribution of the energy produced for the storage chambers at + 3ºC with 33% glycol water and directly with Ammonia the freezer chamber of -25ºC. The installation is comprised of:
4 screw compressors
27 Aerocoolers
4 Evaporators
1 deposit of cold glycol
1 hot glycol deposit
1 particle separator for NH3
1 Pressure group consisting of 3 pumps of 75 kW for cold glycol
1 Pressure group consisting of 3 pumps of 11 kW for hot glycol
1 Pressure group consisting of 2 NH3 pumps
2 Evaporative condensers
Installation of weak signals: composed of category 6 UTP cabling to operate at 1 Gb.
Fire Detection Facility: carried out inside the building with smoke barriers distributed over the entire amplitude of the same, detection by aspiration inside the freezing chamber and detection with optical sensors in the offices. In addition, a hydrogen detection has also been installed for the battery charging zone type ATEX level 2 classification.
Photovoltaic Solar Installation: Installation of 41 kW of 345 Wp solar modules.
Air conditioning installation: Installation with cassette type air treatment equipment with VRV system, providing the outside air directly to the equipment and extracting the stale air with independent extractors. The waste heat is used to heat the domestic hot water.
Electrical Installation: with an operating voltage of 25,000 V for an installed power of 2,000 kVA, with an emergency installation with a 1,600 kVA power unit.
Installation of Security and Access Control with integration to the Desico management system.
Installation of Closed Circuit Television with more than 30 cameras to control the outer enclosure, as well as the interior part of the ship with 360º cameras
Fire Extinguishing Facility formed by more than 3,200 sprinklers with the necessary requirements to comply with NFPA-13 regulations, apart from the installation of manual extinguishing equipment (BIE's) distributed throughout the interior of the ship. Installation of fire extinguishing with gas FM-200 for CPD.
Installation of Management and Control with double management system to be able to govern the production of industrial cold and the general system of the building independently.
Sanitation installation collecting water from the deck of the ship composed of the high-performance full-flow system.
Client
CILSA (Centro Intermodal de Logística, S.A.)